what I wore : lots of blue
Thursday, June 13, 2013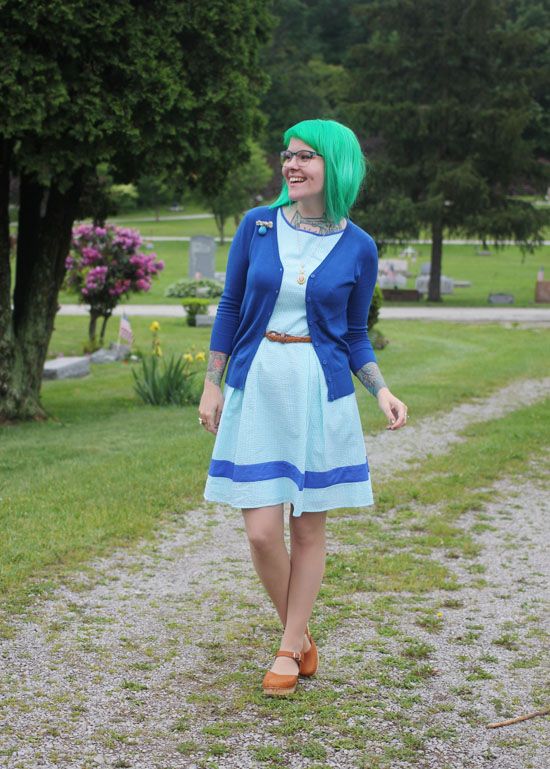 details
dress - TJ Maxx
eye ring - ebay
belt - came with another dress
I am all about this dress! Such a fun summer dress. I feel like it looks like the perfect dress to wear to a carnival, and eat some cotton candy in, ya know? I found it at TJ Maxx on my first trip there alone as a new driver. I'm all about celebrating every little step I make as a new driver/ a less awkward person. Hey, I made it to TJ Maxx? Sounds like an occasion to buy a dress!
Anyway, I kind of had an awkward experience on that particular trip to TJ Maxx. I was minding my own business, looking at clothes when I was approached by a stranger complimenting my hair. That's not out of the ordinary at all, I get approached a lot. I can normally even tell by the way someone looks at me if they'll walk over to me or not. But then this lady just starts talking. "Did you know green hair is going to be really popular this year? I can feel it. Do you have a garden? I garden, I break all the rules. Why do people put all their flowers right near their house? I say put flowers everywhere. I have deer and squirrels. I can't tell them to leave, they were here first. Do you like the Indians? I like them because they're home team but they'll never win in my life time. You have nice legs, they wont be that nice when you're my age. We should have a woman president! But we won't, women are too busy taking care of their families like a woman should. We should have a group of women!".... and on and on and on. I don't think there was a subject she didn't touch on. I mean, striking up a conversation with a stranger with similar interests isn't strange, I wish that would happen to me. But this lady wasn't even giving me a chance to respond. Just cruising from one subject to another and literally following me from one section of the store to another. I finally managed to break away after what felt like a life time (It was probably more realistically 10 minutes, but still!). Before I left I saw she had started talking to another person, that poor girl. It's things like that that make me wonder why I really want to go out alone. Hah! This dress will now forever make think of the really talkative stranger at TJ Maxx, which really isn't too bad. I like when clothes remind me of particular events.
Hope you're having a lovely Thursday...and that you don't run into too many talkative strangers. ;)
xoxo
*If you're wondering why I'm over here holding a fake ice cream cone, it's because it's full of bubbles. I tried to get some cute pictures of myself blowing bubbles...but I didn't. I did manage to capture some really awkward ones though, I'll spare you those.