Happy Birthday, Professor!
Wednesday, June 06, 2012
Today Professor Stingray turns two years old. It's so hard to believe that it's been nearly two years since my mom found that sick little kitty in their driveway. Bringing this little stinker back to health and letting him adopt me was one of the best things to ever happen.
July 11th, 2010
It's actually kind of funny typing "Professor Stingray". I can't even remember the last time I called him that. Kevin and I are apparently really big on nicknames and I'm pretty sure this little guy has way more of them compared to the other three cats. He answers to any of the following - Peter Frankie, Ninny, Beep Beep, Parsnip, Butter Beans, Petar François, Beans, Pony, Ray Ray, Beanie Baby, Ninskin, Mini Pony, Fesser and my personal favorite - Hawk Snack
(because that's probably what he would have been if we didn't rescue him. At my parents house we've seen the rooster be picked up by a hawk a few times!)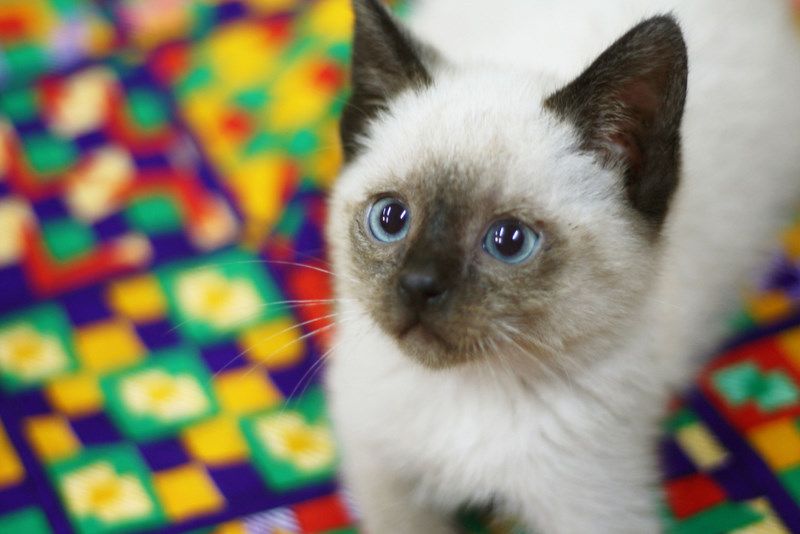 August 8th, 2010
Looking at his baby pictures is so much fun. It's so hard for me to believe that the kitty snuggled up to me right now is the same guy who we kept quarantined in the basement until we knew he didn't have anything contagious, whose eyes were so goopy we had to clean them so he could even open them, who I was worried was a long haired cat since he was so fluffy and who we actually named
Anemone
(Annie for short!)
because we thought he was a girl at first.
January 17th, 2012
Here is
his birthday post from last year
, it has all kinds of links to old posts featuring the little guy. Everything about last year's post is still the same - treat bandit, cute noises, etc. But if it was even possible at all, he's become an even better cuddler. I have never met a cat who wanted to be in my face more than him. He loves to rub his face on my chin, HARD. He's hops up in our bed every night and tries to knock my book out of my hand by slamming his head into it so I'll pay attention to him. And oddly enough, he loves to smell our breath. If he's nuzzling my chin while I'm talking he'll just stop dead in his tracks and try to push his way into my mouth. When you open your month and let out a deep breath he'll basically stick his whole head in there. It's a pretty hilarious sight.
Happy Birthday, Hawk Snack! I'm so happy to be your momma!
xoxo