2012 Midyear Goal Updates
Wednesday, June 20, 2012
It's already over half way through the year which is absolutely crazy! At the very beginning of the year I posted some goals for the year (which you can
find here
) so I thought it would be appropriate to post a midyear update.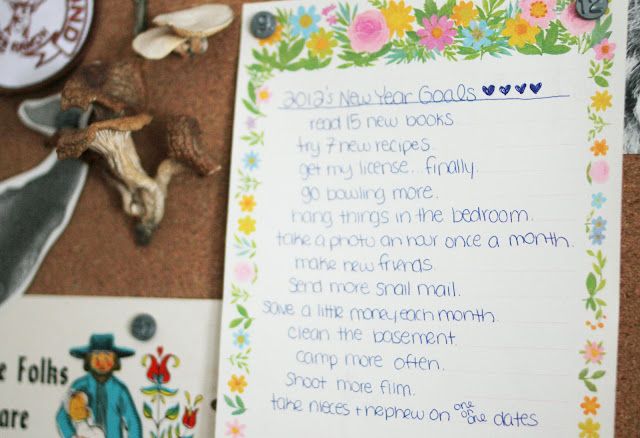 ♥
Read 15 new books.
I am well on my way to accomplishing this goal. I have a post coming very soon talking about the books I've read so far this year.
♥
Try 7 new recipes.
I'd say I'm around halfway done with this goal, I just need to go back through all my photos and find pictures of the things I've baked so I can add them up. I'll certainly be doing a recap at the end of the year about all of the new recipes I tried. I've already found two that I just adore and continue to make regularly.
♥
Get my drivers license...finally.
Oh goodness, I'm so anxious about this goal. I haven't done much so far to put this goal into action other than talking it up to myself
(which may just be half the battle)
. I still really want to get my license.
♥
Go bowling more!
Maaaan, we've only gone bowling once so far this year. I'd like to join a couples league. I'm just nervous about joining one, everyone else already knowing each other and feeling left out.
This is obviously something I should get over, because I'm sure everyone else feels the same way when starting something new. Anyways - bowling! I need to go more.
♥
Hang things in the bedroom.
Haven't done this yet, but I'm actually thinking of repainting the bedroom before hanging things first. My decorating style has matured over the last three years, even if ever so slightly, and I've been feeling like the bright blue color isn't working so well anymore. Painting and decorating are more a fall/winter thing for me though so I have no plans of working on this in the next few months. It'll definitely get done before the end of the year.
♥
Take a photo an hour once a month.
Yeah buddy, I've been keeping up on this one! You can see all my
photo an hour posts right here
.
♥
Make new friends.
Eeep. I am not doing so hot at this. I actually even saw someone at the beach that I could have possibly made friends with buuut I chickened out and didn't talk to her.
(she had a split-cam and looked interesting. I live in a fairly small town and rarely ever even see people who I feel like I could mesh well with so I feel like I really lost out. Fingers crossed I see her again.)
Perhaps this goal should more aptly be titled "Be less awkward around people".
♥
Send more snail mail.
I wouldn't say I'm doing much better at this goal than last year but I have been sending out quite a few post cards. I'd like to start up some sort of little pen pal thing - but without long letters, more just along the lines of post cards, birthday cards, etc.
♥
Save a little month each month.
Another goal I'm proud to have been keeping up on! I've got a nice little chunk of change that I'll be able to use for whatever I want. Although I'm thinking I should just keep saving, saving and saving. Since my brother and his family moved to Germany there has been talk of visiting them so I'll want to have the money for that!
♥
Clean the basement.
I haven't finished the basement up yet but I've certainly made a dent. I'm pretty stoked about how far it's come. I used neighborhood clean up day as a push to clean. We had a lot of furniture (tables, shelving, etc) that was just taking up room in the basement so we put it out and I was just tickled pink to watch my neighbors pick up literally everything and take it home instead of it going to the dump.
(PS. Do you guys have this kind of neighborhood clean up? Where everyone puts out their trash, like tons of it, in their front yard and then the trash disposal company comes and picks it up? This is fairly new to me and I really enjoy watching everyone go nuts digging for treasure in each others trash and I of course, love to snoop as well. People are craaaazy, I have never seen truck beds crammed so full of random things!)
♥
Camp more often.
I am sad to say I haven't been camping yet this year. But I suppose I shouldn't be too bummed because camping season just started in my opinion. I've got one trip planned (well, the date anyways, not the location just yet) and I hope to squeeze a few more in before winter.
♥
Shoot more film (& learn to develop it)
I'm kicking butt at shooting more film. I'm so so excited to have really fallen in love with it again. I still haven't tried my hand at developing my own film though. I have all the supplies ready to go I just need to get myself all psyched up.
♥
Take nieces and nephew on one on one date.
No excuses here, I still haven't done this. I need to brainstorm some cute ideas. Although I'm sure they'd be happy just to go to the playground or go mushroom hunting with us.
So, I feel pretty good about what I've crossed out so far. Rereading these and evaluating how I'm doing has helped me see which I need to continue to work on and helps me feel motivated to finish because of how awesome it feels to cross off the ones I have been doing.
How are you doing on your new year's goals?
xoxo