what I wore; brown and plaid
Tuesday, April 24, 2012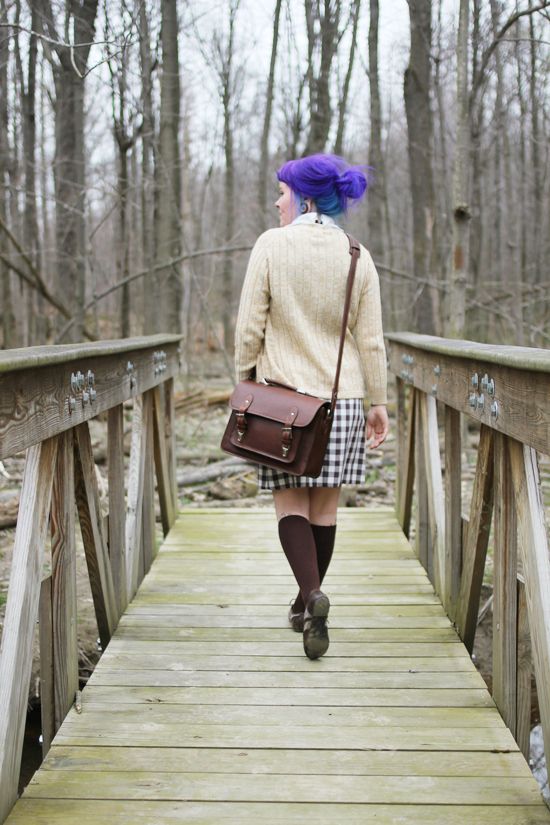 the details:
sweater - thrifted / vintage
socks - Target
shoes -
Soho
c/o
Wanted Shoes
I am so in love with this outfit, I want to wear it everyday. It's so perfectly matchy matchy! I couldn't stop telling Kevin "Look at my shoes, they match my dress! Look how perfect!" This dress quickly moved it's way into my top 5 favorites. I found it at Antiques on the Square which is a nice, little antique mall in a small town not too far from us. They've got a little bit of everything there but there are very few clothes. I never really go in expecting to buy anything especially clothing wise but I sure do love to browse. On the day I found this one of the booths must have just gotten in a bunch of clothes from the same owner because they were all just my size and all so pretty. Kevin offered to buy me two of my favorites but while the others were really snazzy
(and I totally would have bought them at thrift store prices, not that $13 is a bad price at all though!)
I couldn't see myself wearing them as often as this one so I just got the one.
I'm also smitten with my camera bag. I've been using it basically nonstop despite the fact I own five other camera bags. This baby is the best thing ever!! I've got plans for a what's in my camera bag post sometime next month, where I'll show you all some close ups of it and tell you all about what it's been helping me carry around, it's been a while since I've done one. Then later in the month you'll have a chance to win one of these gorgeous bags for yourself!
Hope you're having an excellent day!
xoxo